Function
Automatic Loading & Unloading
Size Measurement
Automatic Folding
Automatic Sealing
Labeling
WMS Integration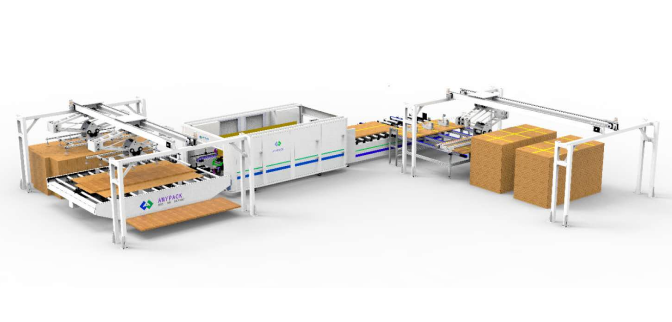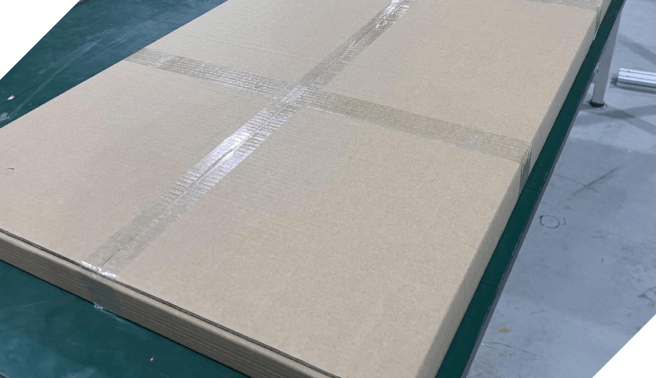 Fully Automated Packing and Sealing Enables Automatic Loading and Unloading, Measurement, Box Folding, Sealing, Labeling, and More. Seamless Integration with WMS system
Custom-tailored to package precisely based on the dimensions of panels Additional features like corner protectors and anti-collision strips can be added as per requirements
Panel Wrap Line—Panel Wrap integrated with Corrugated Box Making Machine
1.Z-shaped Paper Storage and Feeding Area: Stores Z-shaped paper or individual cardboard sheets, as required. It automatically feeds materials as needed.
2. Carton Making Machine (AB2500F or AB2500): Customized, real-time production of cartons in various sizes based on the dimensions of wooden boards obtained in functional position 4.
3. Cardboard Conveying Area: After cutting, cardboard is transported to the packing station using a conveyor belt equipped with adhesive functionality to prevent shifting during transport.
4.Wooden Panel On Each Side
5. Wooden Panel Feeding & Dimension Measurement: Two sets of feeding structures on the left and right ensure uninterrupted material feeding, enhancing efficiency. These mechanisms also measure dimensions while gripping wooden boards.
6. Packing Area: Cardboard conveyed from position 3 is automatically positioned in the packing area. An automatic positioning mechanism aligns the cardboard with the wooden board's center. After placing the wooden board onto the cardboard, the feeding structure transports it to the next station.
7. Wooden Panel Packaging Making: This machine folds the cardboard's long and short sides, carrying the wooden board, and conveys it to the next station.
8. Tape Sealing (Lengthwise): Single-tape sealing in the length direction.
9. Tape Sealing (Widthwise): Three-tape sealing in the width direction.
10. Packed Panel Unloading: An automatic cutting mechanism trims completed, packaged wooden boards and neatly stacks them (single or multiple stacks).
11.Packed Panel Storage Area: Storage area for completed packages.

Specification
Download Brochure
Equipment Size
200000(L) ×14000(W)×2500(H)mm
Powder
220V, 50/60HZ,30KW
Carton Type
FEFCO 401& Customized(with protection corner folding structure)
Max Packaging size
3100(L)x1200(W)x40(H)mm
Minimum Packaging size
1500(L)x600(W)x27(H)mm
Control System(Software)
PLC(Keyence)
Gantry
Loading:1 Gantry with 2 vacuum grippers group for cardboard loading and wood panel loading
Unloading: 1 Gantry with bottom clamp
Material Loading
Automatic Material Replaceable station
Unloading
Automatic finished product Replaceable station
Protection Foam placement station
2 manual placement
Vacuum Grippers Quantity
8( Adjustable)
Logitudinal Sealing Machine
1
Transverse Sealing Machine
3