Who is Anypack?
Founded in 2016, as a manufacturer box making machines, Anypack is focusing on providing corrugated box-making solutions. Giving the solutions to the short-run and long-run production process of corrugated cardboard boxes.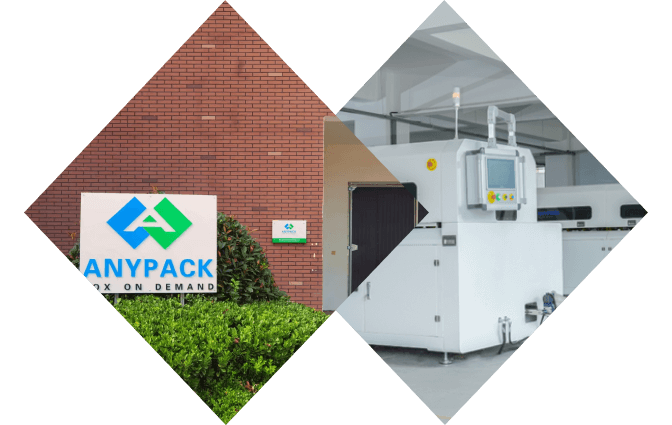 Company Vision
Contribute to the reduction of pollution caused by excessive packaging.
Contribute to the reduction of cost caused by excessive packaging.
Provide cost-effective custom packaging machine.
Fast delivery, help customers to start production quickly.
Background
We focus on the design and manufacturing of custom packaging systems. All the products start from scratch.
The R&D team accounts for 70% of the company staff. In the past six years, we developed more than 200 projects and shipped at least 400 machines successfully.
In order to fight against Covid-2019, we started the manufacturing of face mask machines on 11 Feb 2020. The first machine was not working well. We figured out the problem of mechanical design and establish three independent R&D teams to work on it in parallel. All teams came up with a solution within 24 hours. After careful comparison, we selected the best solution and go ahead with the production.
Within 24 days we managed to deliver the first machine before 5 March 2020. In the coming four months, we shipped 56 face mask machines to 5 countries.
Packaging Division
In April 2018, an auto parts warehouse asked us for a solution to the package of their spare parts. We sent a group of engineers and stayed in the factory for a week to collect the requirement data.
After finishing the market demand investigation, we started the development of the custom packaging system. We delivered the first machine 81 days later. The commission of the machine was finished within 2 days. Today, the machine was still working well.
Since then, we kept improving the design, making it easy to use and work efficiently. Now its switchover time is as less as 3 seconds. However, the productivity rate is as many as 400 pieces per hour. And the boxes are cut neatly without any blurs. The machines are widely used in box factories, home appliance parts warehouses, auto parts warehouses, e-commerce retailers, cabinet factories, and bathroom facility factories.
With more and more business, the company decided to let its packaging division operate as an independent company.
"I am the owner of a box manufacturer, the machine worked smoothly and perfectly.I can produce boxes with any styles and any sizes"

Peter Szendy
Owner of a box plant
"I am responsible for the production of furniture, I really appreciated his service, the machine makes the packaging a simple job."

Daniel Jcrowe
Manufacture director
"I have a retail shop on Amazon, with more than a hundred SKUs, this machine was what I was looking for, the performance was fine."

David Walker
E-commerce owner
Our Happy Clients From Some Countries
Our Happy Clients From Some Countries